If you're planning on launching a new website, you'll have more than one or two tasks to keep track of. Even if you have a project manager to look after all the moving parts, they'll struggle to run the project without some form of project planning tool. But when you Google them, you'll find hundreds of options with varying functions, special features and designs.
Like any tools you invest in for your business, there are some key factors to consider when selecting the best project planning tool for your website design project:
How complex your project definition is – the scope of your website project will have a lot of influence over the project planning and management tool you choose. If you're working on a more user-friendly design without changing any of the functionality of the website, a simpler task-tracking tool with a timeline view could be enough. If you're completely transforming the architecture of your website with multiple internal and external teams, you'll likely need something more powerful.

What key features and functionality do you need – How many teams do you need to track? Do you need to keep a close eye on the budget? What level of data privacy do you need? How detailed do stakeholder reports need to be? These are some of the questions to ask yourself when browsing project planning tools and creating your shortlist. Most tools will have some key features and functionality in common, like timelines, task assignments and simple reporting, but if you need multiple project views, specific integrations or automated onboarding, you'll need a tool that can do that effortlessly.

Who needs to be able to access it – if the only person accessing the tool is the project manager, then access is a moot point. If there are multiple stakeholders of different levels, teams and external suppliers that need to view and use your project planning tool, access is central to your search. Data management also factors into this consideration, with some tools offering more storage options and volumes than others.
At Monogram we've worked with numerous tools delivering many successful projects over the last 11 years, so naturally, we now have our favourites. Here are our top 5 project management tools for planning and delivering your website project.
Trello
Best suited for:
Project teams working with agile or lean methodology
Key Features:
Multiple project views, Moveable Tasks, Custom Labels, Text Formatting, Power Ups (like Board Chat or Forms, Checklists, Filters, 'Subscriptions', Mobile and Desktop Apps, Guest Users
Small vs. Large Project?
Small
Integrations?
150+ external apps including Slack, Adobe Suite and Jira
Pricing:
Free Plan, $6/month/user for Standard, $12.50/month/user for Premium + Enterprise pricing with sliding discounts for more users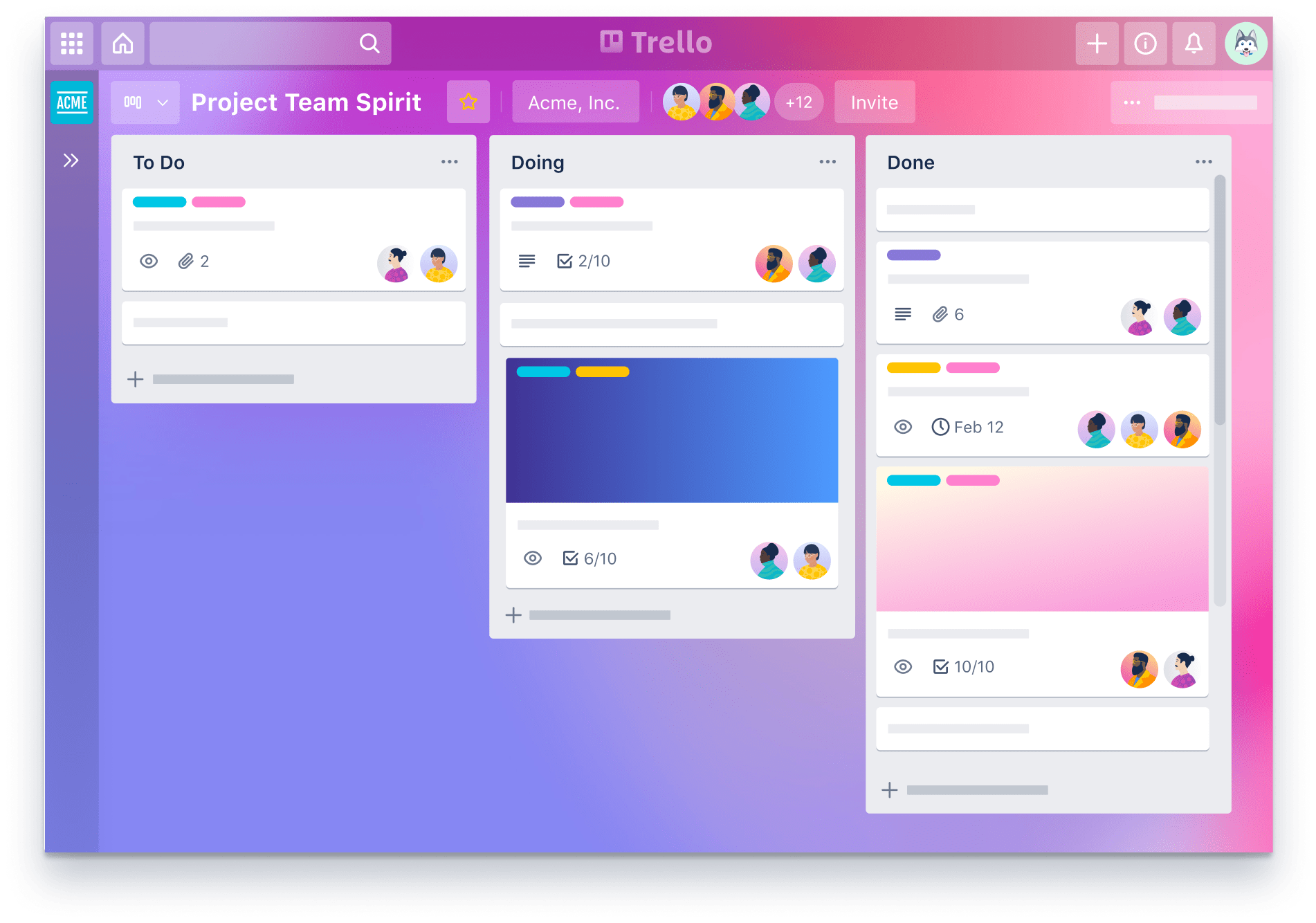 Pros
Simple to use, anyone can set up a basic board

Intuitive task automation with 'Butler'

Competitive pricing
Cons
Timeline and calendar views are restricted to Premium and Enterprise packages

Boards can feel too wide or long, giving you 'scroll fatigue'

Weaker reporting features
Trello has saved us a lot of time getting set up to run an agile or lean website project. The boards are ideal for managing either sprints or Kanban, and it's easy for users to interact with cards and flag delays, add feedback or attach new versions of a document and get someone's attention on it. We particularly like that the board overview keeps things simple with simple icons to indicate time to deadline and number of checklist items complete, but if you need the full task history including actions and comments, it's there as soon as you click into a card. This is especially helpful for understanding changes made to designs or copy.
Asana
Best suited for:
Bigger businesses who want a project planning tool with automation and customisation
Key Features:
Multiple Project Views, Permissions and Privacy Controls, Messaging, Mobile App, Dashboards and Reporting, Custom Templates and Tracking Fields, Forms, Data Security
Small vs. Large Project?
Large
Integrations?
100+ external apps including Microsoft Office 365, Tableau, Invision and GitHub
Pricing:
Free for Basic, £11.59/month/user for Premium or £25.69 for Business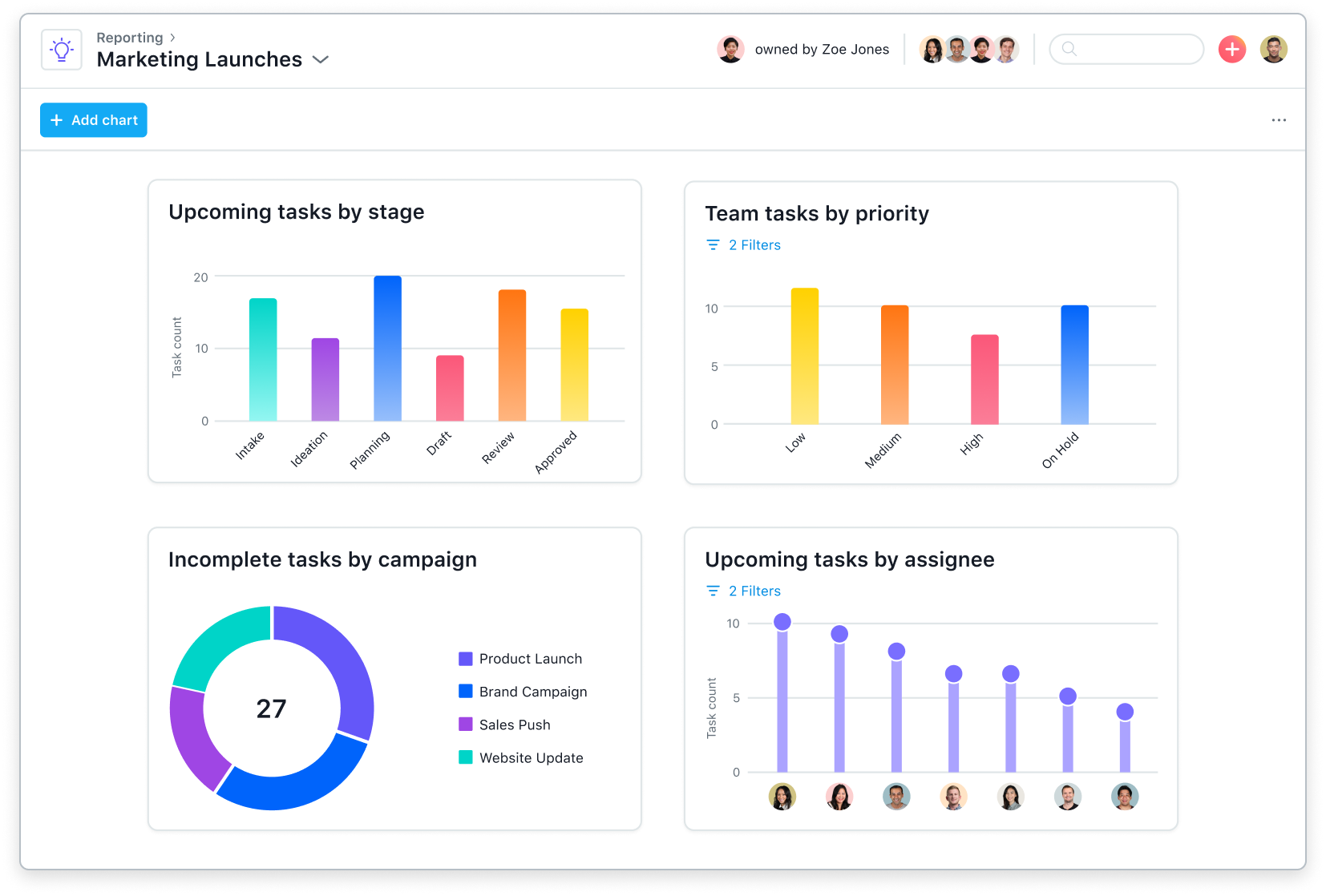 Pros: 
Highly customisable and controllable for power users

Best for stakeholder reporting
Cons: 
Overkill for smaller teams or projects

Can get expensive as you scale up
Asana is a firm favourite of ours for being able to get the most detailed views possible of the project, on both macro and micro levels. The automated workflows, when used well, can take tasks like project on-boarding for new hires or agencies completely off your plate.
The dashboard templates and modular widgets also make reporting to a range of stakeholders feel much less painful, so you're able to focus more on gathering and presenting the qualitative data Asana can't keep an eye on. Project setup is fast with an impressive library of templates and it's one of the best choices for big enterprises who need high levels of data security and business intelligence integrations.
Basecamp
Best suited for:
Remote or hybrid teams that need tools for collaboration as well as coordination
Key Features:
Message Board, Shared Calendar, Automatic Check-ins, Group Chat, File Sharing and Storage, Hill Charts, Work-Balance Notification Controls
Small vs. Large Project?
Small
Integrations?
50+ including Zapier, Harvest, Tick and Ganttify
Pricing:
Free 30-day trial, then $99/month (flat rate, no per user fees)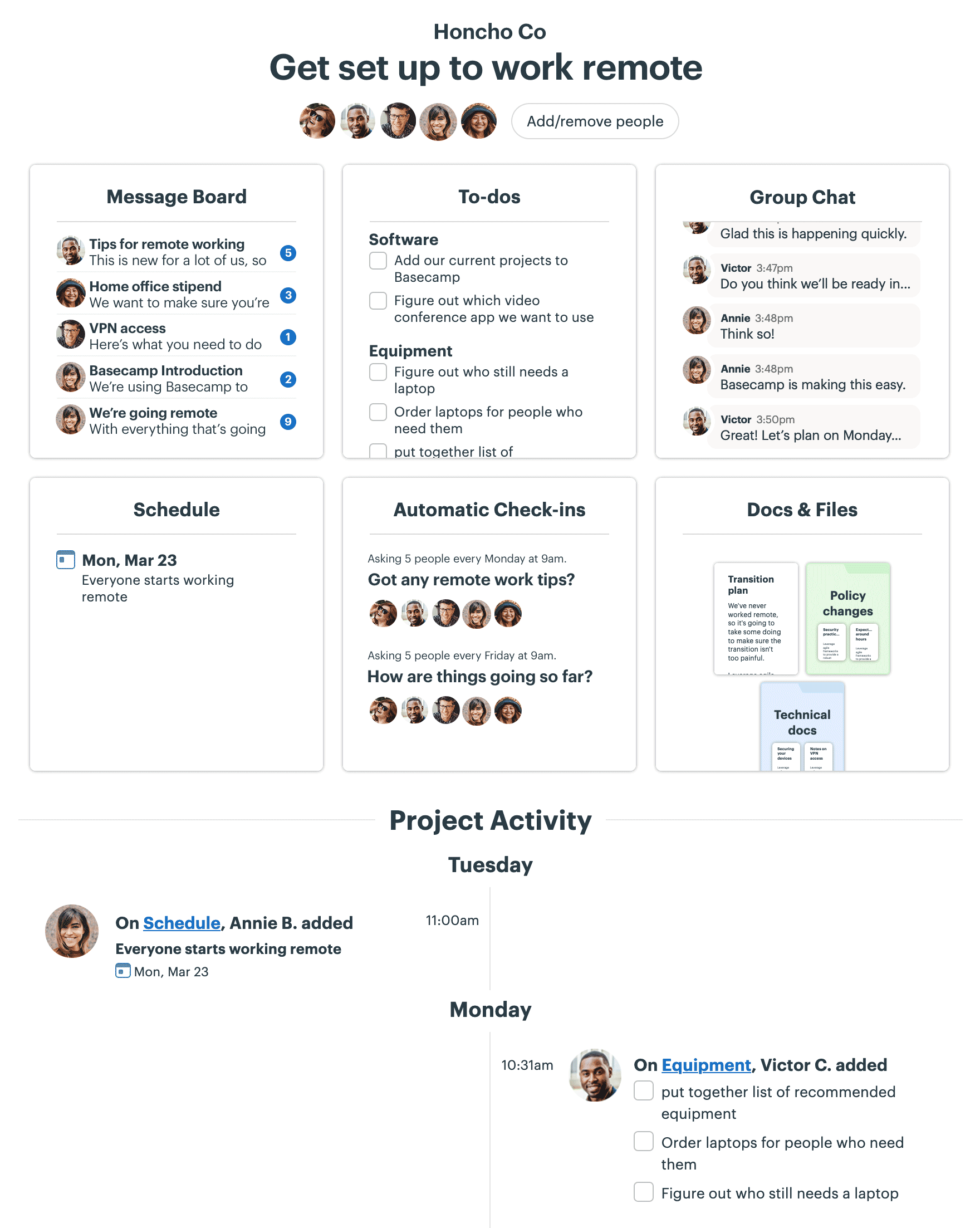 Pros:
The most team member friendly UI and UX

Great file storage system to avoid version mix-up

It feels easier to collaborate with remote teams on specific tasks
Cons:
No Gantt or board views of the project for Project Managers or stakeholders

Lacks some of the native features of the apps it claims to replace (Slack, Asana, Gsuite)

No features to help manage contingencies or delays
When we've worked with lots of remote team members on design-focused projects, Basecamp has shown its value. It favours ease of use for the majority of users over power features for Project Managers and Stakeholders, so it's not a great choice for more complex projects. It is great at keeping team members engaged so they're more likely to use it for updates, sourcing the latest versions of files and collaborative work.
In Basecamp 3 they have a new 'Hill chart' feature to fill the Gantt chart gap of previous iterations of the tool, so it is possible to see an overview of project progress. If you want a more traditional view there are integrations like Ganttify that make this possible, but you'll need to install them first. There's also only one pricing option for Basecamp, so it may not be cost effective for very small teams.
Google Sheets/Excel
With a little effort (or a handy template like ours!) you can use Google Sheets or Excel to create highly bespoke project plans.
Best suited for
Smaller website projects with smaller teams (or figuring out your requirements)
Key Features:
Templates, Databases, Password Protection
Integrations?
Google Apps or Microsoft 365, depending on which you use
Small vs. Large Project?
Small
Pricing:
Free with a Google or Microsoft account
Pros:
Create exactly the framework you need for your project

A more intuitive tool for creating and tracking project budgets (in the same place!)
Cons:
Default templates are very limited and it's time-consuming to build your own from scratch

Depending on your formatting, keeping it up to date / tracking where delays have come from can get confusing

Notifying team members of changes is also a manual process
If all you want is a basic timeline, task tracking and budget tracking then consider a solution you're already familiar with – a spreadsheet. For small projects that focus on a few key website changes, we've often used Google Sheets, as they can be easily accessed across devices and it's a format that everyone knows how to use.
Timeline shifts and notifying team members of changes is a manual process, but for a light project without too many tasks to manage it's nothing a Project Manager can't handle. There are also plenty of free templates available so that you don't have to start from scratch, including our free website project planning template.
Ready to embark on a new website project for your business, but not sure what the steps are or where to start? Get in touch with us to discuss your plans.