Every journey matters to 


Teralytics
Every journey matters to 

Teralytics
Developing a customer-centric website for a business changing the future of transportation.
The brief: To build a scalable, CMS driven website for Teralytics, a fast-growing Swiss business that harnesses big data to transform how people's journeys are planned, operated and accounted for. 
The process began with planning and strategy. Over the course of several sessions in Zurich we engaged with key stakeholders to consider and plan how the new Teralytics website should be structured and how it would look, feel and function.
Next, we created an initial set of page designs that we felt best addressed the identified audiences, considered the agreed structure, content and functionality and was on brand. These designs evolved an existing set of brand guidelines in a direction that we felt suited Teralytics on a digital stage. The initial designs were presented and the new direction agreed before the creation of a full set of interactive prototypes for desktop and mobile devices.
With the structure, content plan and designs in place, we progressed to building an elegant, search engine optimised and user friendly website that hosts rich media content.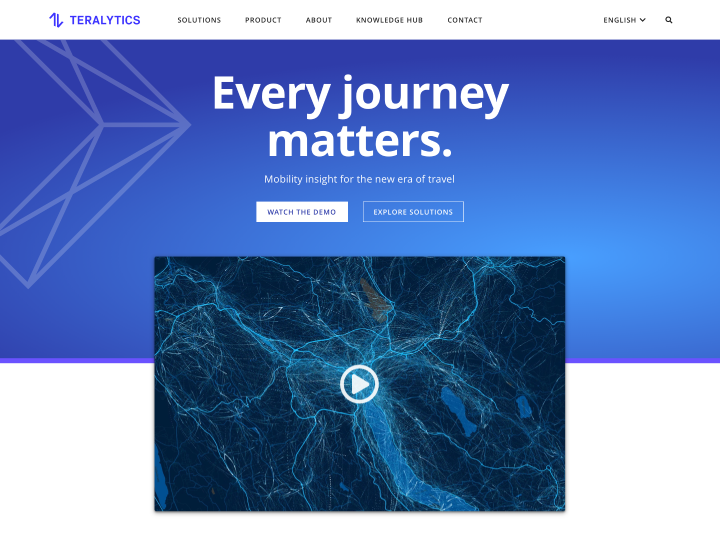 Built using our flexible blocks based content management system driven by WordPress, the team at Teralytics have complete control over the content. The content they add works within our predetermined design parameters – maintaining a consistent user experience that always looks and feels on brand.
Teralytics operates in multiple regions, so multiple-language functionality is a must. Both the site and CMS work in English, German, Italian and Spanish.
We engaged Colin and the team at Monogram to build a new website for Teralytics. They had a positive influence on our brand and digital presence and the website is built in a way that allows us to evolve it in line with our business. The online data dashboards have proven to be a valuable asset too.

Maya Zupan - Head of Marketing and Communications, Teralytics. 
As the pandemic took hold across the globe Teralytics felt some of their data would be of public service and engaged us to make it available on their website. We created the Teralytics Pandemic Response dashboard, which dynamically displays regional data in graphical formats that help to identify travel patterns.
Today, our hosting and maintenance packages keep the site robust, secure and performing at its best across desktop, tablet and mobile.